William Menger, 70, boatbuilder
By Sylvia Adcock
Staff Writer, Long Island Newsday
(Photos courtesy of Herb Nickles and Menger Boatworks)
William Menger loved the shallow, shoaly waters off Long Island's South Shore, and he spent much of his life building sailboats to ply the seas.
Menger, a boatbuilder and longtime resident of Babylon, died Sunday at Good Samaratan Hospital Medical Center in West Islip. He was 70.
"He was a gruff old sea dog, but everyone loved him," said Jerry Thompson, general manager of Menger Boatworks in Amityville, the company Menger founded.
Menger was born in Brooklyn on May 27, 1934. As a boy he learned to sail at his family's summer home in Stony Brook and built his first wooden boat at age 15. After he finished high school, he got a civil engineering degree from Brooklyn Polytechnic Institute.
For years he used his skills at a big engineering firm, then began working for a fiberglass company in Wydandanch. All the while, he was building or restoring boats in his garage.
His wife, Beryl, remembers telling her husband he should make a change. "He wasn't happy with the corporate world, he said there were too many good old boys there. I said, 'You should quit. Don't be unhappy'"
"Then one day he came home and said, 'You know you were talkgin about quitting? Well, today I did.' He said, 'I'm going to do something I always wanted to do'"
It was 1976, Menger set up shop in a Babylon industrial plant and began fiberglass-hull oyster boats. Later, his son Andrew designed a pair of catboats as a high school project, and in 1980 the catboat became the firm's mainstay.
The catboat is a wide-bodied, one-masted sailboat originally designed in the 1850's as a working vessel. One person could sail it alone in all kinds of weather, and it was stable enough for clamming or lobstering. "It was a bayman's boat," said Thompson, and it is particularly well-suited to the sometimes shallow inland waters of the South Shore. Today, the style is popular with recreational sailors.
As Menger Boatworks grew, the high-end fiberglass boats were sold to customers around the world. Andrew managed the books and marketing; the callouses on Bill Menger's hands were a testament to the fact that the firm's president did his share of hard labor.
In 1989, a fire nearly shut down the business, destroying the molds for the fiberglass hulls. But father and son decided to continue what they started, and reopened Manger Boatworks in an old seaplane factory in Amityville, with sliding doors that open onto Ketchum Creek.
In 1999, Andrew Menger died at age 37 from complications of multiple sclerosis, and Bill Menger lost some of his enthusiasm for the business, but not for life. His battle with cancer was difficult, friends said. But, he didn't give up. "He fought it," said Tom Reichmann, a friend who got to know Menger through Christ Episcopal Church in Babylon.
Beryl Manger remembers being smitten with Bill Menger from the start. "I met him and we were married within six weeks," she said. She had just arrived from England and hoped to make her way in new York City as a cabaret singer, but the first job she landed was as a tour guide at Rockefeller Center. "they were advertising for singers and actresses," she said. "They gave you all the facts and then you wrote your own tour." On the job she became friends with Menger's sister, was asked to be in her wedding, and met her future husband there.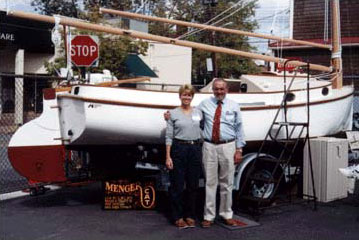 Bill Menger with new Menger Cat 19 owner
at the Annapolis Boat Show, 1998
"He was a craggy kind of guy. A burt Lancaster kind of guy. He didn't say anything . . . He didn't try to put on airs. I liked that."
Menger was a first lieutenant in the Army at the time; the two never really had a honeymoon. So when Beryl Menger retired from her job as admissions director at Dowling College this year, she decided it was time they take a trip. She booked them on the Queen Mary.
Bill Menger had been in and out of remission, and was sick from blood transfusions. For a time, it looked as though he might not be well enough to make the trip. But the doctors pronounced him well enough, and they set sail in May.
"We had a wonderful trip. It was a gift from God," Beryl Menger said. "I talk to God a lot and this time he listened. I can't ask for anything more."
Besides his wife, Menger is survived by a son, William C. of Babylon; and a sister, Helene Bredes of Stony Brook. The family will receive visitors today from 2-4:30 and 7-9:30 p.m. at Boy-Spencer Funeral Home in Babylon. A religious service will be held at the funeral home at 8 p.m. today.